The amusements parks I went to as a child are nothing like those of today. The highlight of the afternoon was always riding the carousal or merry go round. I made sure I picked a horse that moved. I can clearly remember the bells clanging to signal the ride was about to begin. The best part was snatching one of the brass rings. The horses were very ornate and detailed. It was always was such a fun time.
(F.Y. I.
The Flying Carousel is the nation's oldest platform carousel.
)
Katzzs Kloset has a vintage brass
carousel horse figurine
listed. He is in great condition and defiantly would be an asset to a collection.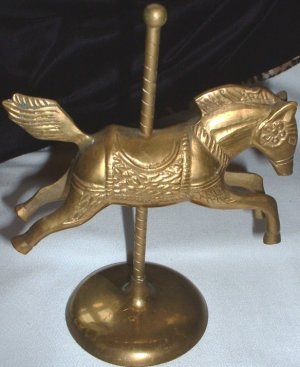 Visit the
eCrater Stores
Network to see some unique horse themed items.